Social media has transformed how we connect, interact, and communicate with each other. LinkedIn is one network, which has played a significant role in this transition. It is a social media which focuses on the professionals and their career development. Professionals use it to display their resume, share experiences, improve professional reputation, show job search, and enhance credibility. It is an interactive platform that is used globally and enjoys user attentions. It is fair to say it is one of the largest professional social media platforms. LinkedIn is preferred by millions to connect, interact, and learn. It has approximately 766 million users, with 310 million monthly active users. Almost 3 million users share content weekly. The audience includes decision-makers (60 million), senior-level influencers (90 million), and C-suite (10 million). More than 55 job applications are submitted through LinkedIn every second. On average more than 100 million job applications are posted on LinkedIn every month. The user predominantly belongs to the middle and high-income class, with high disposable income. Not only that, it is an excellent research tool as well, and 6 out of 10 users use it to explore industry trends and other insights. It is particularly beneficial for B2B businesses. It enjoys the business's attention, and more than 97% of the companies use it in their digital marketing calamine. Moreover, the advantages of LinkedIn advertisement are beyond its audience. This blog will aim to explore the benefits of LinkedIn's detriment and how it can complement the business digital marketing campaign.
The LinkedIn user generously shares information such as name, number, email, location, past work experience, current designation, present organization, skill, and current salary, etc. Another platform also offers such information, but there is a chance of information inaccuracy. On the other hand, on LinkedIn, the information shared is accurate as it is shared to grab the attention of future employees and better opportunities. Therefore, while targeting the audience, the business can ensure considerable accuracy and precision. Fantastic Audience by LinkedIn Advertisement
The users not only the LinkedIn users provide accurate information and they regularly update it as well. They maintain their profile after a while, which makes it even easier for the business to craft the targeted audience and generate more leads accurately. Furthermore, the company can get ultra-specific by using advanced targeting options. In this way, the business can focus on the people that matter and are interested in a similar or related product, service, and ideas. Additionally, LinkedIn users have enough disposable income and enjoy the freedom to make decisions.  
Economical & Budget-Friendly
LinkedIn advertisement is economical and budget-friendly. The user can tailor his/her advertisement campaign as needed without reshaping his/her budget. It does not require upfront charges, unlike traditional marketing. Additionally, conventional marketing cannot guarantee its reach and ad performance.  
With the LinkedIn advertisement, you are in charge. You can alter the budget, and bid based on the performance of your advertising campaign. The user enjoys command and an active role throughout the processes. It has absolute pricing minimums but offers an array of services that widen the scope of the bidding strategy for users. These services include cost-per-thousand-impressions (CPM), and cost-per-click (CPC). Furthermore, LinkedIn offers easy access to premium leads. Therefore, LinkedIn Advertisement is cost-effective and target-oriented.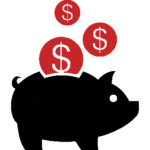 Connect & Engage with Individuals.
The business can customize its message and send it individually to the audience using LinkedIn's sponsored in Mail. It is a competitive solution for a company to gain current and future customers. LinkedIn ensures that the business budget is not wasted on inactive members. When the paid advertisement reaches an active audience, it positively impacts the campaign goals, leads, and sales. 
Account-Based Accounting Campaign 
With LinkedIn, the business can invest in account-based marketing (ABM). It allows the business to target specific clients or accounts in a particular campaign. The company can take the best advantage of the provisions if it is used with LinkedIn Advertisement. The platform matrix complements LinkedIn advertisement when used with ABM marketing. It is incredibly beneficial and widely used in the B2B industry. The business can use the information available on the platform to accurately target the audience and develop a rewarding account list. The business can promote tailors and personalized ads to take the best advantage of the quality audience available on the platform. If used rationally, creatively, and strategic LinkedIn Advertisement can offer massive return and payoff. 
Consistency & Creativity.
A successful LinkedIn advertisement campaign should focus on posting exciting and inspiring ads regularly. The user can use images, video, and text in the ads. Not only that, the user can design the ads in different formats, including email advertisements, carousel ads, and more. Furthermore, the list of ads, including the following:

Sponsored In Mail
Sponsored Content
Text ads
Video ads
Dynamic ads
Display ads
Carousel ads
Every ad type has its unique benefits. It's essential to understand the advantages and disadvantages of each type to actualize its full potential. Before starting your digital marketing campaign, review the different types of LinkedIn Advertisement and its different formats, and decide what works best for you. Besides, LinkedIn allows the user to modify and update it as and when needed. The user can personalize the campaign and reap its unique benefits. Again simplicity always works, but it should be presented in a creative and inspiring manner. It should catch the user's attention. High-quality photos and quality content is recommended. In short, the ads should generate interest and curiosity.
LinkedIn has proven its success for businesses and professionals. The platform is designed to help professionals excel in their fields, and assist the business to engage with the most skilled and talented workforce. Not only that, it offers a large audience in the budget. The variety of LinkedIn ads makes it even more attractive and user friendly. It is cost-effective and budget-friendly. There are multiple types and formats available on LinkedIn Advertisement. Before starting LinkedIn Advertisement type and style, it is essential to review their unique features, and then select what best suits your needs.